The Best Things to Do in St. Louis This Weekend, July 6 to 10
River Front Times, Posted By Paul Friswold on Thu, Jul 6, 2017 at 11:35 am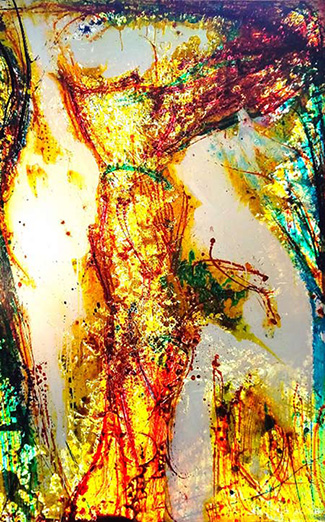 #1: Explore the imaginary worlds of Helene Slavin
Helene Slavin: Paracosm
When: Tuesdays-Saturdays, 10 a.m.-5 p.m.
Continues Through Aug. 5
Price: free admission
Helene Slavin's abstract paintings are actually fractals — infinite patterns that repeat themselves at different scales — which she creates by throwing paint and then using an electric toothbrush to fine-tune the patterns that form. There's an organic quality to her work that becomes more apparent the longer you look at it, which makes sense: fractals appear everywhere in the natural world, from ferns to mountains. But Slavin's fractals all exist in the created world of her paintings. Hence the title of her new exhibit, Paracosm — a paracosm being a highly detailed imaginary world. This show of worlds within worlds is a fundraiser benefiting Just Moms STL and the Earth Defense Coalition. Helene Slavin: Paracosm opens with a free reception from 5 to 8 p.m. Thursday, July 6, at the Philip Slein Gallery (4735 McPherson Avenue; 314-361-2617). Paracosm remains up through August 5.
— Paul Friswold
Philip Slein Gallery
4735 McPherson Ave. St. Louis - Central West End
314-361-2617
www.philipsleingallery.com
Arts, Staff Pick

Artist Helene Slavin Sees Fractals All Around
August 23, 2014 5:00 am • By Sarah Bryan Miller sbmiller@post-dispatch.com 314-340-8249
Fractals are found in nature in everything from microscopic blood vessels to lightning bolts, from the whirling spirals of hurricanes to those of immense galaxies.
A fractal is "a never-ending pattern that repeats itself at different scales," according to the Fractal Foundation. Helene Slavin is a visual artist who uses these patterns in her paintings, to striking effect.
"They control the contours of nature," Slavin says. "I like channeling the forces of fractal geometry when I'm throwing paint."
She makes her art by hurling paint with great force, and then burnishing the results with an electric toothbrush. "Ultrasound causes fractals to shift and to form," she says. "I use friction to reveal them." Gels and glazes provide the finishing touches.
Slavin, 54, is a St. Louis native who once focused on painting landscapes and people. In 2010, she encountered fractals in the painting process and began incorporating them in abstract paintings. She uses sheets of Plexiglas as her canvas; back lighting, whether from a window or artificial, makes them glow. The effect is at once organic and inspired.
Slavin got her formal education at St. Louis University and the Otis/Parsons Art Institute in Los Angeles and a working, creative education in Europe. She and her husband, Dr. Stuart Slavin, spent two decades living and working in Los Angeles. They returned when he joined the faculty at SLU's School of Medicine, where he's the associate dean for curriculum and a professor of pediatrics. They live with their two daughters and three dogs near Forest Park.
She works through a severe physical handicap. Slavin was diagnosed at the age of 39 with lupus, a chronic autoimmune disease that attacks the body and causes pain and damage to the body. That was in 1999; she'd already had the symptoms for five years before it was confirmed.
Slavin's lupus means that she has trouble coping with heat; she wears dark glasses to cut the glare from lights. (She takes them off to make color adjustments.) Despite the chronic pain she's suffered for two decades, her work ethic is undamaged: She makes paintings every day.
The works in her current show, "Aeterna," at Philip Slein Gallery, have the rich colors of the Dutch Renaissance as their basis and inspiration. Slavin works with complementary colors. In this series, that means that she starts with a rich gold as the "core color," and then brings in a dark but still brilliant blue. Other hues — red, green, yellow, purple — follow.
"I'm obsessed with Rembrandt," Slavin says, using both the colors and the "gorgeous shapes" she finds in his paintings as inspirations for her own abstract pieces. The colors are luminous; the palettes are unified. One particularly beautiful green-gold is in every piece in the show. "I didn't want to forget it."
It takes at least 25 to 30 hours for her to create a painting. About half of them can be counted successes, Slavin estimates. She throws the paint from large bottles, a minimum of four for a small piece, and double that for a larger one.
"I often start with a sketch based on nature, or a photograph," she says. "Then I throw the paint. The fractals are moving very, very forcefully." The angle of the acrylic background and other variables help to shape a piece.
One of the paintings in "Aeterna," "Emanations," summons an image from beneath the ground to its artist, but it's also reminiscent of a great tree with windswept branches, in a psychedelic springtime. "Eos," named for the Greek goddess of the dawn, has the colors of early morning but with a vivid jolt. "Vulcan" takes its name from the Roman god of fire; orange is the dominant color in a painting filled with movement. Like Vulcan's specialty, the fire of volcanos, it's threatening but beautiful.
Other paintings evoke shifting clouds. In "Celestial Spring," white is dominant. "Clouds are totally fractal," says Slavin. "That's why we see shapes in clouds." Another, the tornado-like "Aeolian Vortex," relies on strong textures for much of its impact.
In the work from which the exhibit takes its name, "Aeterna," Slavin was originally working horizontally to try to create something like a bonsai tree. Instead, when placed vertically, an incandescent figure revealed itself, coming through veils. "I have these intentions when I get started; I have sketches and ideas," Slavin says. "But sometimes, other intentions come through and take over when I start to throw the paint."

Fractal Forces
Text: Samantha Hubbard
Photos: Colin Miller/Strauss Peyton
August 2014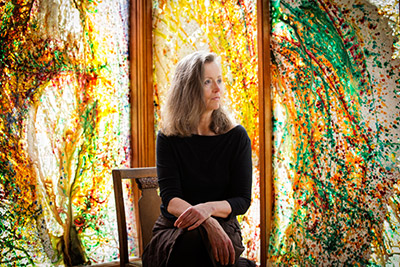 Helene Slavin combines contemporary action painting and classicism, guided by the forces of fractal geometry.
Like so many ingenious ideas in this world, fractal painting originated by accident. Helene Slavin compares her discovery to the story of toasted ravioli in St. Louis, when ravioli pasta was mistakenly boiled in oil, creating the crunchy, browned noodle, at Angelo Oldani's on the Hill in the 1950s. Slavin was mixing blue paint when it splattered. She noticed how the forces of nature spread it into a pattern of its own across the white lid of the paint can.
"That changed my creative life, seeing that," says Slavin about the formation that she would soon identify as a fractal, or a repeated pattern at varying degrees of magnification that was first defined in geometry by Benoit Mandelbrot in 1987.
She experimented with her discovery by putting paint on the edges of a lid and observing it slide over the rim and down the side. It was then that she decided to try a completely new path and process with her painting. Using the basic forces of gravity, pressure, heat and friction, she departed from the landscapes and figurative pieces that encompassed her past works.
Slavin created her first composition using her fractal painting process in 2010. Walter Metcalfe purchased Wilde Bloemen. "I wanted to create this beautiful negative and positive composition, so I looked at a Rembrandt landscape, and I cut out the Rembrandt shape, and I threw the paint through the open shape," Slavin says. Ever since then she has been exploring, studying and developing fractal geometry with acrylic paint.
In her white-walled backyard studio, scattered with painting supplies and splatters, sits a composition she is working on for her upcoming show. Slavin began with a sketch of a tornado she had seen in a photograph and set up a base that was particularly shaped with bumps and indents for the fractals to follow and form on the Plexiglas.  Then, she threw the paint, using a method that she prefers to keep secret. "Things are moving very quickly," Slavin says. "The fractals are forming and I'm trying to catch up with them. I think of it as me channeling the forces of fractal geometry. They're working through me."
Slavin sometimes incorporates painting tools such as combs and brushes to release fractal passages that have become too heavy. She guides her paintings with the abstract shapes of Rembrandt landscapes, having traveled to Paris and Holland on over 20 different occasions to study the Dutch masters of the Renaissance. "After visiting these Rembrandt's and Vermeer's for as many times as I have, they've very slowly unveiled some secrets to me," she says. "And that has informed my color theory."
Her color theory focuses on a classical color palette. "I have a core color, which is this amazing gold, and it's tied to all other colors that I use," Slavin says. She ties complimentary colors to each other to make the color unified and luminous.
Luminosity is something that Slavin has been uncovering and expanding in her work for the upcoming show at the Phil Slein Gallery. These newest paintings are on transparent plastic sheets and light pours through them.
Slavin states, "These works reference nature because the contours of the universe are controlled by fractal forces, both microscopically and macroscopically. Both micro-organisms and the galaxies are fractals, as are the systems of our bodies, such as our circulatory and nervous systems".
To see the fractal formations in Slavin's new compositions, visit her at the Phil Slein Gallery, throughout the month of August, with opening reception on the 8th, from 6-8 pm.
Color and Light Grace
StLBeacon.org, June 2010, by Ivy Cooper, Beacon art critic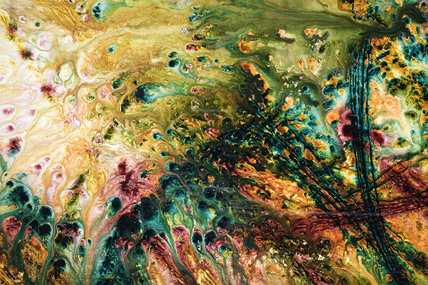 Pannotia, (detail), 2010
Acrylic on canvas
60 x 48 inches

With Helene Slavin's "You are Here" and a selection of flower paintings by Jerry Wilkerson, the Philip Slein Gallery is awash in color and light this month.
Slavin has 12 large canvases splashed with luminous acrylic paint, creating veils of color punctuated by clusters of paint drops. The drops bleed and spread in minute capillaries, connecting with one another and creating intricate networks across the surface of the canvas.
While Slavin has been called an action painter, her works are anything but the product of freehand, spontaneous gestures.
According to her artist's statement, she generates them by throwing paint through cutout forms based on Rembrandt paintings, then allowing natural forces (gravity, friction, heat) to move the colors about.
Slavin is interested in everything from fractals to Dutch renaissance color theory, and it all informs her labor-intensive process; the results are paintings that appear effervescent and effortless.
Wilkerson's flower pieces — paintings, drawings, serigraphs and a printed quilt — show off the St. Louis artist's mastery of an idiosyncratic pointillist style. Their beauty is an enduring memorial to the painter, who died in 2007.
Helene Slavin
Artcritcal.com, Summer 2003, by James Scarborough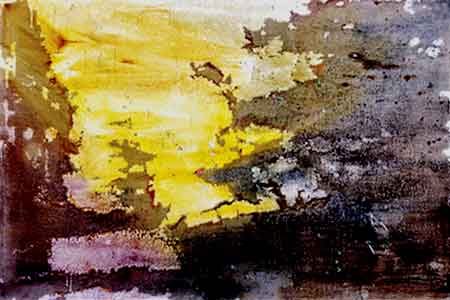 Evergreens, 2003
Encaustic, acrylic & oil on linen
48 x 72 inches
Private Collection
In her eight large paintings on show at Patricia Correiea, Helene Slavin creates instant patina. Looking aged, well-used, as if they've been sitting in an attic, her works resemble maps that mischievous schoolchildren have dipped in coffee. Actually, they're built up from layers of acrylic, encaustic, and oil applied via gesture, splash, and squiggle. They appear aged because Slavin drenches her canvases with mute color.
Colors are on the brink of strident, as if seen through a scrim. Fiery yellow skies, for example, in Evergreens; luminous white in the Vermeer-inspired View of Delft; the yellow-white of the sun or whatever light source it is that illuminates the female in Stephany. With subtlety she tones down these colors. Their effect is not acerbic, as in German Expressionism, or incandescent, as in Van Gogh. Rather, the experience is of looking at a faded Gauguin Tahiti painting. Once-lustrous but no longer so, yet with intimations of past lustre.
Slavin works her surfaces to an extraordinary degree. Rather than staining the canvas like Helen Frankenthaler or Morris Louis, she literally soaks, saturates, tattoos the canvas. They look well-worked like a tapestry, pummeled to good effect. As well as the surface, she applies paint to the flip-side of the canvas where it emerges through the interstices of the linen. Moreover, she singes the surface to melt the wax. Finally, she sands and then varnishes the surface to preserve the poltergeist of the process. Think of a sunset over rubbled Pompeii preserved in ambergris.
Her strategy is at once expressionistic and conceptual. On one level, there is the sense of walking into a well-appointed Victorian reading room and finding a comfortable chair: Comfortable if not nostalgic. By dint of their size, they engulf the viewer. Sparse on detail and long on lyricism, they engage slowly, they simmer, occasionally they percolate. They induce calm, irrespective of subject matter. They are a cocksure paean to technique and virtuosity unmediated by posturing and theory.
By creating work that spans abstraction and figuration and is made with an identical technique, an identical look, an identical resonance, she abolishes historical hierarchies between abstraction and figuration. She renders moot the tension between figuration and abstraction, showing that they are two sides of the same coin, painting. Her work may flirt with abstraction but it does so the way Picasso's and Braque's did, where even their most abstract works of Analytical Cubism still maintained a purchase in representation, on tangible reality.
These works suggest the tension that animates painting today is anti-painting. The real distinction is between things that age and those that don't. Installations, especially; performances; and also, a whole genre of work that escaped commodification, like Smithson's Spiral Jetty, Schwitter's Merzbau, Duchamp's Fountain. Slavin's work embodies meanings, to borrow the phrase from Arthur Danto who extended Marcel Duchamp's conceit of retinal painting. Conceptually, the work poses an unintended homage to painting, to its endurance, its viability, the way the fact of its existence is the subtext behind every painting ever produced (just as every book printed bears some relation to each other).
As with decanted wine, time enhances the works; their implicit longevity, their duration-made-manifest, and their maturation, are in themselves part of their subject. That is painting's saving grace. All the experiments of the 20th century that changed the nature of painting could not alter one incontrovertible fact: over time paintings (and bronze sculpture) age, they acquire a patina. And perhaps, just perhaps, this patina sustains any aura that was present at its conception. Does video age to good effect before it disintegrates? What about installations and performances, how do they stand the ravages of time?
Slavin's work shows that one of painting's perennial themes is the acknowledgement of its own aging. She doesn't trumpet her genre's will-to-aura; no, suave and discreet, her work shimmers like a smoggy Milton Avery, premature, old, getting better all the time.
James Scarborough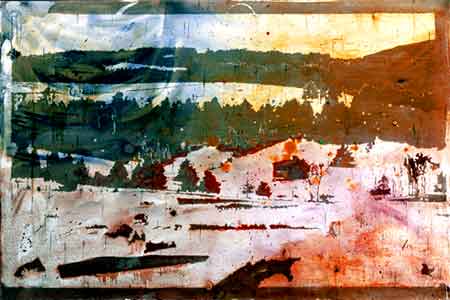 The Red Barn, 2003
Encaustic, acrylic & oil on linen
48 x 72 inches
Private Collection
Helene Slavin at D5 Projects
Artweek,
February 2001, by Domenic Bruzzese
Positive and negative, the quintessence of life so beautiful and powerful, are mirrored into the subconscious by the "third eye." Haunting blood stains of surreal ghosts roam upon loosely woven canvases bestowing breath upon death and verve into existent life. In a new series of paintings, Helene Slavin beguilingly recalls photographs from the early 1900s. These works attempt to crack timeless codes that simultaneously construct and deconstruct the vernacular of American culture.
A torn heart sweetly sealed with acrylic and wax, a walk in the snow with a raincoat and umbrella, bed sheets to comfort at the end of a weary day, a savage solider who supplies refuge: eight Zen-like pieces encompass one another and provide atmosphere in the cramped environment of Robert Berman's gallery, D5 Projects. Slavin's use of negative and positive space and the subjects of her abstract imagery supply painful yet joyful dreams which beckon lustfully for the presence of an open soul to reveal their hidden messages.
These works are reminiscent of early twentieth-century photo negatives; they transcend collective consciousness through the use of a monotone palette and ubiquitous yet surreal imagery. Pale, raw canvas offsets creamy white acrylic patches which are interspersed with stains, washes and a sporadic use of encaustic technique. Slavin's elusive imagery functions the same way it was created: pigment is pushed through the backside of a canvas to become a physically discernible spirit which transcends the spiritual barriers of silent messages.
The gesture of a shadow-like silhouette in Man with Umbrella #1 is at first bleak, but then reveals itself as an iconographical artifact—one that chronicles urban life in the early 1900s. The use of color in this piece is a beacon that directs the flow of subconscious thought. A faint vision of a man in a raincoat appears holding an umbrella. This transient image seeps through the copiously dirty, ripped, worn and torn canvas to produce a figurative metaphor captured in a boundless flash of time. Wrinkled and faded tactile texture creates a familiar abstract shape meant to resemble a photo negative of an umbrella. The effects of the medium suggest a lapse of time. Void of a landscape or any site-specific information, it begs the rhetorical question: how much time has passed in these images?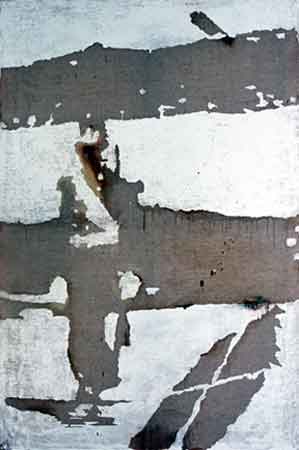 Soldier with Flag (#1), 2000
Acrylic and encaustic on canvas
72 x 48 inches

Marcel Duchamp's Nude Descending a Staircase correlates to Slavin's Woman Descending, #2. Here, intertwined line and shape illustrate movement; an overlapping of forms creates imagery that is both affirmed and denied, leaving the piece aloof to the specificity of time and place. Whispers of delicate feet at the bottom of Woman Descending, #2, allude to a grounding of the figure, but discerning its existence on earth, in air, or any space at all reorients the focus of the psyche. Feelings of joy and pain disappear like the vaporous clouds of a Rothko stained canvas; a desire to heal the wounded woman's spirit hypnotizes the soul with an abominable helplessness. What corridor will cure the needy soul? Incapable of a conscious decision, the willing subconscious accepts Slavin's restrained use of color as it leads one on a Freudian journey through canvases resembling bombed-out, barren buildings.
In these works, archetypal images like tactile, frosty photo negatives and rotting Rorschach tests reveal permeable boundaries and barriers. Turn of the century ghosts etched, scratched, and worn are intertwined with delicate yet seemingly indestructible linens; these implacable images provoke the psyche and call out a plaintive reminder of humankind's painful past: the Holocaust. Slavin creates dynamic memories that dabble with eternal moments in time; a shaman-like medium, she recalls spirits of the past to help guide us through the course of the next century. The use of ubiquitous and universal imagery coupled with a unique manipulation of materials in Spiritus grants a recognition of hope—a hope that radiantly re-creates history and provides an opportunity to learn from the past yet steadily stride into the future.
Domenic Bruzzese
Helene Slavin: Spiritus closed November 4 at D5 Projects, Santa Monica
Marching On
Los Angeles Times, Friday, February 20, 1998, by Leah Ollman
Marching On: Time passes like water: It never stands absolutely still and never takes the same shape in the same place twice.
Helene Slavin conjures the fluidity of time with precious delicacy in several of her recent paintings at Hello Artichoke. Her large portraits, Crucifixion and Pieta (each measuring up to 93 inches per side) have redeeming, energetic passages, but they lack the overall presence and potency of the smaller paintings.
Rembrandt's Susanna, for instance, is a breathtaking, ethereal gem. An oval just 10 inches high, the painting has Susanna bathed in a cool blue aura that radiates against a ground of warm umber glazes. The contours of her figure, like her own absorbed gaze, are unfixed, contingent.
In Jack Delano Garment Worker, based on a New Deal-era photograph, Slavin transforms the documentary into a poetic near-abstraction. The worker, her head bent to her labor, has chiseled features defined by deep shadow. Her hand and the material she is working on have far less substance.
They appear to be decomposing, dissolving into minute colored granules of light. A similar phenomenon occurs in Slavin's Madonna With Child, a luminous icon whose vaguely suggested figures radiate a spirituality independent of material presence.
Slavin titles the show "Pentimenti," after the traces of underlying painting that remain visible through subsequent layers and glazes. It's an apt metaphor for the visible residue of times' persistent accrual.
Leah Ollman